Empire Hospitality - World Class specialists in Housekeeping solutions for Hotels, Resorts and Serviced Apartments. Achieving exceptional cleaning Standards every time.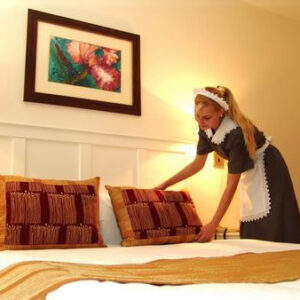 Empire Hospitality specializes in outsourcing of entire housekeeping departments. Empire Hospitality is able to provide clients with a unique outsourcing model.
The benefits to the client in outsourcing are tremendous.
Read More
Why Use Empire Hospitality?
As a market leader in hospitality cleaning solutions, we can offer you customised, comprehensive and cost-effective housekeeping solutions tailored exactly to your needs and your business requirements
Our specialised services feature:
• Preliminary and ongoing consultation and planning
• Detailed housekeeping service plans
• Contractual pricing options
• Dedicated supervisory staff
• Highly trained housekeeping staff delivering a guaranteed 5 Star standard
• A proactive and partnership approach with clients
• Consistent review of our services in line with your changing needs and trends within the industry
It is no wonder that our clients are among the largest and finest hotels in Australia
What our customers are saying!
"Empire Hospitality is the best outsourcing company I have ever come across. Any Issues that may arise, they handle promptly, with positive results at the end of the day. The staff members are always well-groomed, very polite and very well trained. The staff members are trained on site and we have a support base where we constantly are upgrading. The staff at Empire is very professional, very supportive and their customer service is excellent"
"I have a good relationship with the staff and supervisors and they are very professional. We have a very high standard to maintain and if there are any problems or issues, they are addressed promptly and action taken. The staff members are quite flexible and they are good to work with. Empire's customer service is very good and we have been using them for 10 years now"
"We liaise closely with the operations manager who has a clear understanding of the delivery and execution of five-star service. This has made a good working relationship and he has been instrumental in helping build our success. He has been very professional and his customer service has been excellent and I enjoy working with them."
"We have worked with them for some time now, in fact about ten years. We have found that they are happy to be flexible and they are good at listening to their client's needs. We look forward to continue dealing with them in the future."
"We have basically grown and developed as a business partnership with Empire Hospitality so there is a clear understanding and response by them to our needs."
"They go out of their way to help their customers and they help with our various needs at short notice. They have a great team of staff. Very knowledgeable, friendly and professional."
"We switched to using Empire over two years ago and we haven't regretted the decision. The standard of Staff which they supply is very high and we haven't looked back. They respond quickly to our requests and concerns and their overall customer service is great. Best of all, our costs have gone down."
"Empire Hospitality has been supplying us with staff for over 10 years because we continue to find them reliable, flexible and always helpful, particularly in an emergency. More to the point, the staff they provide ensure that our Guest's expectations of quality service and care are met."
"Their consultancy staff took the time and the trouble to understand what we were after and were very attentive to our needs once they had been fully briefed. Their communication and follow up with us was great too. The Staff they placed with us are friendly and flexible and attentive. We are always pleased with their work for us."
"They are very quick to respond to any issues and come up with solutions very promptly too, we also have regular meetings to discuss our needs. The staff they select are on the ball and prepared to take ownership for their work."
"They are always very prompt to respond to any of my requests and they deal with any issues which arise very quickly indeed, which is a major benefit of their service."
"Empire is very professional and are good planners, they liaise with us very well and are very flexible. They react positively to any issues which arise and together we come up with solutions or compromises. We have a very fair and open relationship."