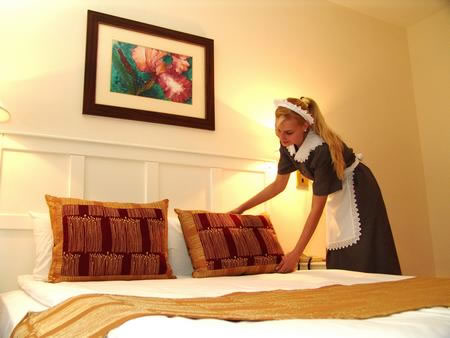 Outsourcing of Housekeeping Departments
Empire Hospitality specializes in outsourcing of entire housekeeping departments. Empire Hospitality is able to provide clients with a unique outsourcing model.
The benefits to the client in outsourcing are tremendous.
The client is able to save on their housekeeping costs by eliminating all their fixed costs attributable to housekeeping, as well as additional costs that are associated with running the housekeeping department.
The client is able to eliminate all costs associated with payroll i.e. wages; superannuation; workers compensation; payroll tax etc.
Direct costs such as recruitment and training.
Indirect costs that cannot be quantified such as staff maintenance and wellbeing which are absorbed by Empire.
The client is thus able to budget better as costs are directly related to occupancy.
There is a growing trend towards outsourcing, as clients realize the valuable monetary and time saving costs. This valuable saving allows the client to focus on generating increased revenue through their actual revenue generating departments. 
Empire Hospitality has the experience and management to ensure the smooth transition of the housekeeping department whilst the initial outsourcing takes place, simultaneously achieving the clients specific goals and objectives.